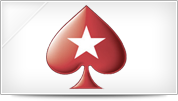 Top online poker site, PokerStars, has announced they are launching a new television show based on poker game play. The Shark Cage is a new television show that PokerStars has created to pit poker legends and Team PokerStars Pros against each other and PokerStars is even giving amateurs an opportunity to compete.
The Shark Cage is now offering qualifiers so players can try to earn their spot in this special competition. The new poker show will have eight heats. Each heat will be filmed during EPT events and each heat will feature five pros and a qualifier from online. Each group will compete for one spot in the final tournament. The final table will be competing for $1 million in a winner-take-all format.
PokerStars is hosting qualifiers as well as a Casting event. A video audition can be sent to PokerStars to see if you can make it on the show. The online poker site is looking for people who are outstanding in their personality, enthusiasm and humorous. The casting videos can be sent to YouTube and then the link sent to PokerStars to be considered. The date for submission ends on December 8th.
The Shark Cage will be filmed in different locations including the Bahamas, Barcelona and Monaco. The final will take place in London. A great cast of characters will be competing in the heats and game play is sure to be exciting. Players will be competing against the clock as every player will have only thirty seconds to make a move on each street, which means game play will move very quickly!
Players will also be sent to the Shark Cage if they fall for a bluff on the river and this player will miss a go round in the tournament. If the bluff is called, the bluffer will be sent to the Shark Cage and the player who calls will earn a few bonus chips!