PPI Poker Review
Sign-up Bonus

100% up to $1,000

Rake Calc Method

Contributed

Bonuses Deducted

N/A

Tournament Fees Included

No MTT Fees

Rakeback Payments

*CREDITED INSTANTLY (*credited after you leave table)

Rakeback

**35% INSTANT RAKEBACK**

Network

Good Game

Max Tables

8

Promotions

35% instant rakeback for ALL accounts that sign up from RakeMonkey.com. Your rakeback will be credited to your account as soon as you leave the table - it's that simple. The site also offers new playuers a 100% bonus up to $1,000. Check the FULL REVIEW for more on PPIPoker.net.
Play Right Now

Poker Players International – also known in short as "PPI Poker" – has been lending support to various aspects of the online poker industry for years now. Recently, they partnered with Tain to bring to life the very first online poker site that was created by players for players.
Tain, in case you are unaware, is a company that has been providing platforms for poker sites since 1999. Both PPI and Tain have flawless track records and that is something that is paving the way for PPI Poker to become an industry leader.
Though unavailable to players from the United States, PPI Poker is already becoming wildly popular in Asia and the rest of the world. The site is licensed by the government of Curacao, much like many other poker sites and online casinos past and present.
PPI Poker Features
The biggest claim to fame offered by PPI Poker is the of course – **DRUMROLL PLEASE ** ….
RAKEBACK (<< click it, seriously!!!)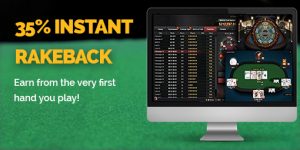 While, in this day in age, the existence of rakeback alone is going to turn a few heads, the fact that PPI offers 35% rakeback is absolutely stunning.
You see, poker sites have been actively reducing their rakeback deals or eliminating them altogether in recent years.**
**Though they will say this is due to their offering of other attractive bonuses, the real reason is because these sites want nothing more than to increase their own revenue.
The rakeback deal at PPI Poker is especially attractive when you consider the fact that all rakeback is paid to you as soon as you exit the table you are playing poker at.
This is a nice twist because, as a lot of players already know, sites are often content with paying rake out at a specific interval, such as one time per month. So, not only is PPI's rakeback better than just about anywhere else you will find, they pay you instantly.
At PPI, the fact that the site is run and dominated by poker players means that rewarding players comes before boosting the bottom line. Right from the time you play your first hand, you will automatically begin accruing rakeback.
Tournament Staking Setup
Another interesting feature you will find at PPI – but not necessarily at other poker sites – is tournament staking. For people who may not be involved in the poker world enough to know what it is, tournament staking is the act of either selling part of your own action or buying the part of someone else's action in a tournament. To make it even simpler, let us provide an example.
If the buy-in for a tournament you would like to enter is $1,000, you can sell a percentage—let's say 25%–of the buy-in to someone else. As a result, that person lays claim to 25% of any winnings you may walk away with.
This feature allows you to enter tournament you might not be able to otherwise as well as offer another person the ability to profit from your results. This happens all the time on the floor of brick and mortar poker rooms, but has, until now, been almost nonexistent in the online realm.
It must be noted that the welcome bonus must be redeemed within your account's first 60 days of existence, otherwise the bonus expires. Another interesting facet of information is that the bonus is paid out in increments of $5 for every $50 in rake accrued. Quite clearly, you will need to play a lot of poker in order to take full advantage of your welcome bonus.
Software Utilized by PPI Poker
Tain provides the platform off of which PPI Poker operates, but GGNet supplies the software that really makes the site tick. GGNet is not the most well-known software provider as far as Western World poker players are concerned, but it has already accrued an overwhelmingly positive reputation amongst Asian players.
The software is compatible with both PC and Mac in downloadable form. In addition to this, you can access most every aspect of PPI Poker on your mobile devices. When it comes down to the functionality of it all, there is really nothing you have to worry about. GGNet's vast amount of experience across the online poker industry has made it so that you don't have to worry about the site's youthfulness. The software is more than competent for experienced players while simultaneously lending itself to new players with limited experience in the online poker realm.
Types of Poker Games Available
If you are a traditionalist looking to take on other players in classic versions of poker, you will find both Omaha and Texas Hold'em. These two popular versions of the game are available across a wide variety of stake levels. With that being said, the heaviest saturation of players can be found amongst the lower stake levels.
All-In or Fold Games
In addition to the aforementioned, traditional versions of poker available, you will also find a game known as All-in or Fold. The game of All-in or Fold does a good job of dumbing down the game of poker. The 4-person game sees players decide whether they would like to force themselves all-in, or fold, each and every hand. This can make for some exciting games, tough decisions, and massive wins. Making the All-in or Fold offering more attractive is the AOF Jackpot. This is a jackpot awarded when a player hits a Royal Flush in Omaha or Straight Flush in Hold'em.
Fortune Spin Games
Fortune Spin is another variety of the game offered to players at PPI. This version of poker is a Hold'em Sit-n-Go that incorporates a prize wheel of sorts. Prior to a hand being played, the 3 participating players will see a wheel spun. Where the wheel stops spinning determines the prize being fought for that round.
If the spin yields a fortune cookie, the round is over. Each player will then receive a fortune cookie with an accompanying cookie card. On PPI Poker there are 10 different cookie cards, and when they are all accrued you will be rewarded with a cash prize.
The other 2 wheel options see players face off for either 4x the buy-in or a whopping 8x the buy-in. Most often, however, you will either receive a fortune cookie or play for 4x the buy-in.
In all, there are more than 2,000 visitors playing poker at any given time. Being that the site is often described as being fishier than most, you can bet that most of that action is happening across the lower and mid-level stakes.
Daily Tournament Schedule at PPI
The daily PPI tourney schedule keeps even the most avid tournament player pretty busy. And while they're not as comparable to a mega site like PokerStars or 888, they still have a lot of selections to choose from, with a lot of affordable buyins and solid guarantees for all entrants involved. Check it all out below.
| | | | |
| --- | --- | --- | --- |
| Event | Time (UTC+00:00) | Buy-in ($) | Guarantee ($) |
| Daily Red $50 | 11:00 | $47.50+$2.50 | $3,000 |
| Daily Rebuys $30, 4K GTD | 12:00 | $28.50+$1.50 | $4,000 |
| Daily Red $80 | 13:00 | $76+$4 | $5,000 |
| Daily Red $150 | 14:00 | $142.50+$7.50 | $8,000 |
| Daily Rebuys $50, $5K GTD | 15:00 | $47.50+$2.50 | $5,000 |
| Daily Red $100 | 16:00 | $95+$5 | $5,000 |
| Daily 6-Max $10 | 17:00 | $9+$1 | $500 |
| Daily Blue $20 | 18:00 | $19+1 | $800 |
| Daily Rebuys $5, $500 GTD | 18:00 | $4.75+$0.25 | $500 |
| Daily Blue $50 | 19:00 | $47.50+$2.50 | $2,000 |
| Daily 6-Max $30 | 19:00 | $28.50+$1.50 | $1,200 |
| Daily Blue $100 | 20:00 | $95+$5 | $3,000 |
| Daily Blue $10 | 20:00 | $9.50+$0.50 | $500 |
| Daily Blue $40 | 21:00 | $38+$2 | $1,500 |
| Daily Rebuys $10, $800 GTD | 21:00 | $9.50+$0.50 | $800 |
| Daily Blue $25 | 22:00 | $23.75+$1.25 | $1,000 |
| Daily Blue $5 | 23:00 | $4.75+$0.25 | $300 |
| Daily 6-Max $50 | 00:00 | $47.50+$2.50 | $2,000 |
| Daily Green $100 | 01:00 | $95+$5 | $3,000 |
| Daily Green $10 | 01:00 | $9.50+$0.50 | $500 |
| Daily Green $40 | 02:00 | $38+$2 | $1,500 |
| Daily Rebuys $8, $800 GTD | 02:00 | $7.60+$0.40 | $800 |
| Daily 6-Max $10 | 03:00 | $9+$1 | $500 |
| Daily Green $20 | 04:00 | $19+$1 | $800 |
| Daily 6-Max $40 | 05:00 | $38+$2 | $1,500 |
| Daily Green $15 | 06:00 | $14.25+$0.75 | $650 |
| Daily Green $25 | 07:00 | $23.75+$1.25 | $1,000 |
| Daily 6-Max $20 | 08:00 | $19+$1 | $800 |
Banking Options
Credit Cards
Visa, Mastercard, and most other major credit cards are accepted for both withdrawals and deposits. The time it takes to execute a credit card deposit is a mere few seconds, and the fees are fairly small. PPI Poker does a good job of noting that, in addition to the fees they will charge, your credit card company may also charge you fees.
E-wallets
Currently, both Skrill and Neteller are e-wallets accepted by PPI Poker. Like every other banking methods available on the site, these approved e-wallets are able to facilitate withdrawals and deposits. What's more, the speed at which e-wallet transactions are processed is amazing. When it comes down to it, e-wallets are the preferred option for most people. Then again, this all depends upon where you live.
Bank Transfer
For those looking to make larger deposits of withdrawals, you will be happy to know that PPI Poker processes bank transfers by way of Trustly. Trustly is – no pun intended – one of the most-trusted names as far as direct bank transfers are concerned. Because banking laws around the globe are subject to change from jurisdiction to jurisdiction, you must ensure that a direct bank transfer is legally able to be executed from your country of residence before you actually process any transaction.
Support
If you have any inquiries whatsoever, we encourage you to reach out to PPI Poker's customer support at support@ppipoker.net.
Save
Save
Save
Save
Save
Save
Save
Save
Save
Save
Save
Save