PokerStars Review
Bonus Code

THIRTY

Sign-up Bonus

100% up to $600

Rake Calc Method

N/A

Bonuses Deducted

Yes

Tournament Fees Included

Yes

Rakeback Payments

FPP for Cash Rebates Only

Rakeback

VIP

Network

Independent

Max Tables

64
Play Right Now
PokerStars VIP and Bonus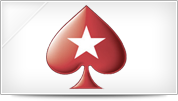 We described much of PokerStars' VIP program in the above sections, but we want to reiterate again – PokerStars has the best VIP program available on the internet today.  At the higher levels, it dwarfs earnings that one could make from rakeback.
New, depositing players at PokerStars will also get a 100% deposit bonus up to $600.  These bonuses are cleared the same way players earn levels in the VIP program, by earning VPPs.   PokerStars also has frequent reload bonuses for players throughout the year, adding another chance to add free money to their bankrolls.
>> Get your PokerStars account and $30 in FREE PLAY today!
Stars Cashback Equivalent
PokerStars has a special VIP program that is equivalent to up to 40% rakeback. If you're looking for an actual rakeback deal, though, you won't find it at PokerStars. Out of all the poker sites on the internet, PokerStars is by far the most anti-rakeback.
I know, I know; a VIP program sounds like a pathetic substitute for an actual rakeback deal but just hear me out. It's not as bad as it sounds. PokerStars didn't become the largest and most respected poker site in the world by accident.
>> Download PokerStars Here and Start Earning Your VIP Cashback!
PokerStars Rakeback Equivalent
Instead of offering rakeback to its players, PokerStars uses the money to fund a comprehensive VIP program that players will actually benefit from. As you play in real money games at PokerStars, you will automatically earn Frequent Player Points (FPPs) which can be used to purchase items, gain free entry to tournaments and unlock cash bonuses.
When I say cash bonuses, I'm not just talking about paltry little amounts to keep you barely satisfied enough to stay at PokerStars. I'm talking about major cash. Take the PokerStars milestone bonuses, for example:
$800 at 100,000 VPP (I'll explain the difference between VPPs and FPPs soon)
$2,000 at 200,000 VPP
$3,000 at 300,000 VPP
$4,000 at 400,000 VPP
$5,000 at 500,000 VPP
$6,000 at 600,000 VPP
$8,000 at 800,000 VPP
That alone is nearly $30,000 in cash. Even better, these milestone bonuses are paid in addition to the regular cash bonuses you can purchase at the VIP Store.
How the PokerStars VIP Program Works
There are six levels in the PokerStars VIP program:
BronzeStar
SilverStar
GoldStar
PlatinumStar
Supernova
Supernova Elite
You will automatically begin as a BronzeStar player and then move up in levels based on how much poker you play. As you play poker at PokerStars, you will actually earn two types of points:
VIP Player Points (VPPs)
Frequent Player Points (FPPs)
The VPPs you earn are used simply to determine your level in the VIP program and your FPPs are the points you can actually spend in the VIP Store. At the first level, you earn VPPs and FPPs at the same rate but as you move up in levels, you begin to earn more FPPs per VPP earned. At the highest level, you will earn 5 FPPs for every 1 VPP.
Benefits at Each Level
As you move up in levels in the VIP program, your benefits become increasingly rewarding. Here's a quick summary of each level:
BronzeStar – This is the level everyone starts out at. As a BronzeStar member, you can purchase items from the BronzeStar level in the VIP store and be able to access $1,000 freerolls twice a day. Every month there is a $2,500 BronzeStar tournament that costs just 200 FPPs to enter.
SilverStar – If you earn 750 VPPs in a single month, you will move up to become a SilverStar player. This is easy to do so it shouldn't take long at all. For every VPP you earn at this level, you will earn 1.5 FPPs. Every week you'll be given entry to a $30,000 freeroll and every month you can play in a $100,000 freeroll. At this level, you can also purchase a $50 bonus from the VIP Store.
GoldStar – Earn 3,000 VPPs in a month to become a GoldStar member. A $285 bonus now becomes available at the VIP store and you have access to all the same tournaments as a SilverStar plus a $75,000 VIP tournament every week. For as long as you are a GoldStar, you will earn 2 FPPs for every VPP earned.
PlatinumStar – Earn 7,500 VPPs in a month to become a PlatinumStar member. Now you can purchase a $650 bonus from the VIP store. You'll also be given access to the PlatinumStar section of the player rewards store. You can also use your FPPs to buy into events in the World Championship of Online Poker, the European Poker Tour and the World Series of Poker.
Supernova – This level is difficult to reach but it comes with some major benefits. In order to become a Supernova, you will have to earn 100,000 VPPs in a single year. It doesn't matter how long it takes as long as you earn 100,000 VPPs within one year. At this level, you will earn 3.5 FPPs for every VPP you earn.
As a Supernova player, you will now qualify for the milestone bonuses listed above. These bonuses combine for a total of $28,800 in cash. You can also purchase $1,500 and $4,000 bonuses from the VIP store. You can also use your FPPs to buy in to the World Series of Poker Main Event.
Supernova Elite – This level is for the most hardcore of grinders. If you make to Supernova Elite status, you are in for some serious royal treatment. It's not easy though; you'll have to earn 1,000,000 VPPs in a single year to reach this level. As soon as you reach it, you'll be given a free entry to the World Championship of Online Poker Main Event plus a choice from either one of these two packages:
• Package 1: Any two packages from the PokerStars Caribbean Adventure, WSOP Main Event, EPT Monte Carlo, APPT Sydney.
• Package 2: Any one of the above packages plus $10,000 in cash.
That's not all, though. You'll also qualify for the following milestone bonuses:
$10,000 at 1,250,000 VPPs
$10,000 at 1,500,000 VPPs
$10,000 at 1,750,000 VPPs
$20,000 at 2,000,000 VPPs
$10,000 at 2,250,000 VPPs
$10,000 at 2,750,000 VPPs
$20,000 at 3,000,000 VPPs
These bonuses aren't just fluff. People actually do make it to Supernova Elite status. One player reached Supernova Elite status in less than 3 months. It's not easy but it's definitely possible.
Earning VPPs and FPPs
VPPs are earned in tournaments at a rate of 5 VPPs per dollar paid in entry fees. For example, if you play in a $20 + $2 tournament, you would earn 10 VPPs. In cash games, it's a little more complicated but suffice it to say you can earn up to 3 VPPs per hand played.
Your FPPs are earned in the same manner except when you move up in levels. As you move up in levels, you will earn multipliers that increase the number of FPPs you earn while playing poker. For example, GoldStar players earn 2 FPPs per VPP earned (hint: don't forget to use an official PokerStars Marketing Code to get the full bonus to start your VPP adventure)
PokerStars Software
PokerStars are tops when it comes to poker software, an area they have been leading in since the early days of online poker.  The current version of Stars' product has all the options and features an online poker could dream of and is among the best in online poker.
It is sleek, fast and makes playing online poker have that distinctive feel.  Cash and tournament lobbies are well organized, and lobby filters are some of the most advanced.  There are table options and customizations galore within PokerStars' software making the experience unique for each player.
Resizable tables, cascading and tiling functions make PokerStars a multi-tablers paradise.   The current max number of tables per account at one time is 64.
Stars' software is currently used by tens of millions of players and is a massive part of their rise to the top of the online poker industry.   Stars also offers mobile and tablet versions of their software so players can play from anywhere in the world.
PokerStars Support
PokerStars has some of the best support around.  Known for being not only extremely helpful to players Stars' support team can be witty and humorous in response to players.  While they don't offer phone support or live chat, they offer some of the fastest email response times out of any online poker room.
In addition, their FAQ which is available on the PokerStars' homepage is one of the best available for players new to Stars and internet poker.  PokerStars' support staff is one of the top reasons they are number one online poker room on the internet today.
PokerStars Cashier
PokerStars has a variety of options for players who wish to deposit.  Depending on your country of origin, deposit and payout options may differ.  All deposits and payouts at PokerStars are free of charge to players, and the minimum deposit across all options is $10.
Credit card deposits via Visa and MasterCard is one of the easiest methods to deposit on Stars and one of the fastest.  These are instant and available to anyone who has one of these major credit cards.  However, the most popular option for depositing players is online e-wallets.  Online virtual wallets such as MoneyBookers and Neteller have been around for a decade plus and are well trusted in the industry.
In addition to these options, PokerStars offers a dozen more ways to get your money online.  These include Entropay, bank transfers, INSTADEBIT, checks, bank wires and many more options.  Players will also be able to transfer money from their PokerStars account into their Full Tilt Poker account and vice versa.  Most payouts are processed within 24 to 48 hours.
PokerStars Player Traffic and Competition
Stars are the world's largest online poker room by a large margin.  At peak hours, the room has upwards of 130k players populating their tables.  Unlike many of the other larger poker networks, PokerStars uses no 'skins' or other online poker rooms that pool their player base.  This makes the feat of being the largest online room even that more impressive.
PokerStars certainly is not a fish pond.  In fact, it actually has a reputation of being one of the toughest player pools.   We here at Rake Monkey still think players should take that with a grain of salt.  Yes, the games are tougher there than elsewhere, but there is also a lot more tables to choose from, a much larger player pool.  This just puts a premium on game selection.  A savvy player should be able to exercise excellent game selection and should have no problem finding ample action at PokerStars.
PokerStars Cash Games
PokerStars has every game imaginable available to players.  The most popular being No Limit Hold' Em and Pot Limit Omaha, but every Stud and Omaha variation are offered, including Stud Hi/Lo, Omaha Hi/Lo and even Five Card Draw.
Micro limits to nosebleeds PokerStars have all the action and the player base to support most games.  They offer heads-up, 6-max and 9-handed tables.
Over the past year, PokerStars has also added Zoom Poker.  Zoom Poker is nearly identical to Full Tilt's Rush Poker and allows players to play hundreds of hands per hour using a unique system.  Many have called it the future of online poker.
PokerStars Tournaments
Again, Stars is the undisputed king of online poker tournaments.  Their flagship Sunday Tournament is the Sunday Million that has a buy-in of 200+15.  They also offer dozens of daily tournaments, other big weekend tournaments and basically all the action players can handle.  Yearly tournaments include the World Championship of Online Poker and Micro Millions.  They also offer a tournament leader board so players can track their results and win prizes.
Sit & Go action is also immense at Stars, offering many variations including regular speed, turbo and hyper turbo, PokerStars offers all the action players need.  SNGs are available to players in heads-up, 6-max, 9-handed formats.  Also offered are multi-table SNGs.  PokerStars has the "Battle of the Planets" SNG leader board as well, which gives out $3 million to players annually.
Overall
What else can we say about Stars?  It's the world's most trusted poker room and the largest offering a vast assortment of games at each and every limit along with world class support.  We don't like picking favorites here at Rake Monkey, but if we had to choose only one room to play at – it would be PokerStars, hands down.