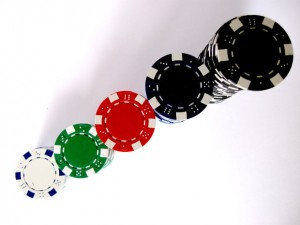 Online poker rooms tend to stick with the standard gaming options: Hold'em and Omaha. These gaming options can be found in different forms but tend to be the most popular forms of poker found in online game play. However, many sites will offer unusual forms of poker or odd variants so that players have the opportunity to try new games. Ultimate Poker, which is available in both New Jersey and Nevada, has now announced they are offering a new Hold'em variant called Two Street Hold'em.
The new game will go live on February 10th for a trial run. The game is based on Hold'em but players can only see two betting streets. One preflop betting round takes place and then five community cards are dealt. The river is the last betting round before the showdown. The games has less betting rounds and a larger ante which should see more action post flop.
The Product Manager of Ultimate Poker, Chris Danek, stated that he wanted to design a game that would give people the same joy and fun that hold'em provides without the needless folding. The first game will take place on the 10th in play money form. Ultimate Poker employees as well as pros representing the site will take part in game play.
The gaming option will be in test form but UP has researched the game to see if players would enjoy the option. by the 14th, the Nevada room will offer two real money options with $1/2 blinds and $1 ante. The games will be available on Friday, Saturday and Sunday of Valentine's Day weekend.
The new option is one that will be followed closely in the industry. It is always interesting to see what types of games players enjoy and if the new option will become a popular new trend.