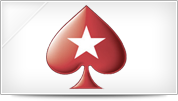 When a professional poker signs with an online poker company, the player tends to stay associated with the brand for quite some time. Players have been known to start careers after one major win and signing with top companies such as PokerStars, 888, Full Tilt and more. When a player signs with a poker site, they will earn a bio page online as well as compete in online tournaments or host special events. The player will also represent the site at live events, wearing clothing from the brand to show support and sponsorship.
Top pro Vanessa Rousso has been associated with the PokerStars brand for quite some time and now it seems as though the two have parted ways. The PokerStars website no longer has any information of Rousso including her picture and bio page that were previously on the Team PokerStars list.
According to f5Poker, PokerStars no longer has any information of Rousso on the site and Rousso's Facebook and Twitter page no longer mention PokerStars. According to reports, it does show that Rousso works with PokerStars.net on her personal page of Facebook but this could just be from the pro not removing the status as of yet.
It is believed that the two parted ways toward the end of January as Rousso was still shown on the PokerStars site up until about a week before February began. Neither Rousso nor PokerStars have made a formal announcement on the subject as to a split or why the two will no longer be working together. More information should be released in the future on the subject.
Rousso will still be a big fixture in the poker industry and can be seen in a few weeks at a seminar featuring poker by focusing on reading and decoding player behavior at the gaming tables.