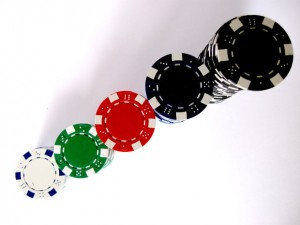 According to various reports, poker player Rick Salomon earned a nice payday when competing against fellow poker player Andy Beal. Salomon is currently going through a divorce with Pamela Anderson and according to court documents, Salomon was able to earn a $40 million by playing against fellow poker pros. The bulk of this cash seems to come from Andy Beal.
Anderson is trying to see some of the cash come her way, claiming half of the money won from the previous year. Based on information provided by Anderson, Beal and Salomon met one weekend in Las Vegas at the Bellagio. They competed at the poker tables and Beal was up $13 million at one point but then ended up being down $16 million against Salomon.
This would not be the first time Beal has been in the news for losing a large amount of cash. It was reported not long ago that the pro lost $5 million when competing against Todd Brunson. After finishing fourth in the World Series of Poker $1 million buy-in event, Salomon learned that Anderson was divorcing him. Anderson filed for divorce which is nothing new to the couple.
This is the second time the couple has separated since being together. Back in 2007, the April had been together for just two months before calling it quits. The reason the two are together is because of the game of poker. Anderson was said to have lost $250,000 while competing against Salomon and the two could not get enough of each other.
It will be interesting to see what a judge decides in the divorce proceedings, since there is a great deal of money on the line. Will Anderson get her cut or will Salomon be able to keep his earnings after what seems to have been a very profitable 2014?