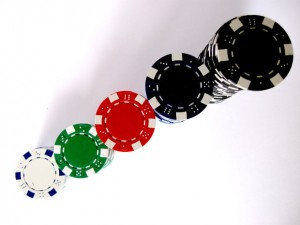 Every year when the World Series of Poker rolls around, players have come to expect certain events. We all know there will be high roller events, the starting event of the casino employees as well as the main event. It is also common to find the WSOP officials have added new events for players to enjoy. New events give players in Las Vegas the opportunity to compete in a different type of event as well as give the WSOP a chance to see what event types might be more appealing to players.
This year, the WSOP featured a $1,500 50/50 No Limit Hold'em event which provided players with a unique format. Half the field would finish in the money with a prize of at least $1,000. Once the event reached the final ten percent, the payout structure would return to normal and offer much higher prizes for the top finishers.
The first ever run of the event was sponsored by DraftKings and it was Brandon Wittmeyer who outlasted the field of 1,123 to earn the first place win. Wittmeyer earned a prize of $200,618 and his first ever WSOP bracelet. This was the second time the poker player made a final table during the WSOP.
In the end, Wittmeyer had to face Derek Gomez in heads up play to earn the first place win. During the final hand, Gomez was all-in and Wittmeyer called. Gomez showed A-10 off-suite with Wittmeyer holding A-Q of hearts. The flop fell K-10-2-2-Q, giving Wittmeyer the pair on the river and the first place win.
Final Results:
| | | | |
| --- | --- | --- | --- |
| Finish | Player Name | Prize | |
| 1 | Brandon Wittmeyer | $200,618 | |
| 2 | Derek Gomez | $123,907 | |
| 3 | Ping Liu | $77,516 | |
| 4 | Mukul Pahuja | $56,245 | |
| 5 | Tom Braband | $41,540 | |
| 6 | Matt Affleck | $31,079 | |
| 7 | Perati Muhamet | $23,650 | |
| 8 | Stefano Terziani | $18,268 | |
| 9 | Michael Whitman | $14,266 | |