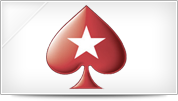 Top online poker room PokerStars is known for sponsoring poker pros, celebrities and sports stars in online and live game play. The site likes to work with players in all walks of life and feature such players in live gaming events. Rafael Nadal is a popular tennis star that is known for dominating the court. The tennis pro has been working with PokerStars for some time now, since June 2012 and has yet to compete in his first live poker event. This will all change on December 12th when Nadal competes in a European Poker Tour event.
Nadal first came to the online poker room in 2012 and plays online regularly. However, he has yet to play in his first live event. This will change during the European Poker Tour stop in Prague. Nadal will be competing in a charity tournament on December 12th and will compete up against top pros and competitors.
PokerStars reported that Nadal will be competing against some of the biggest names in the international professional poker circuit as well as with other sports stars. The additional sports stars competing will be released by PokerStars over the next few weeks. Nadal commented on the live event by stating: "I have been playing poker online for almost 18 months and now I'm looking forward to the challenge of playing my first live tournament."
Nadal additionally stated that it is no secret that he loves competition and that is why he likes the game of poker. The game is one of skill and it requires the player to have mental strength and use mental ability to outthink the other players. He compares these aspects to tennis. The tennis store has reportedly hired a coach for poker and has made many improvements in the game. The sports star is sure to use what he has learned to do well in the upcoming tournament.