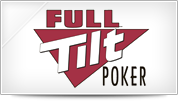 In today's society, we all want things now, fast, hurry up! We are all so fast paced that everything should be available as soon as we want it. This goes for poker as well. Players want to be able to play quickly, especially when time is lacking. Full Tilt Poker first created Rush Poker to do just that. To allow for cash game options that was quick and simple. The online poker room has now launched an even faster version of the option.
Adrenaline Rush is the latest addition to Full Tilt Poker which allows players to enjoy the game quicker than ever. Players will be able to play with a combination of Rush Poker at shorthanded tables with a shallow chip stack.
Ring games in Adrenaline Rush will offer betting that tops out at ten big blinds. The buy-ins are set at 5 to 10 big blinds. Players have to bet preflop and in most cases, players will only be able to raise or get out of the hand. With the new Adrenaline Rush software, players have the option of two special features as well which will help to move the games along at a faster rate.
Quick Fold will take players immediately to a new table while Raise Max will put a player all in with the full amount of cash possible once it is their turn. Sarne Lightman, is the Head of Marketing for Full Tilt Poker and he commented:
"Full Tilt Poker players love the thrill and excitement of fast-paced, quick fold action, and Adrenaline Rush pushes the envelope on speed and excitement." Lightman went on to state that the game gives players quick excitement, gets the adrenaline pumping and ready for more! Players will now have the option of competing against more players with more pots and quicker game play!