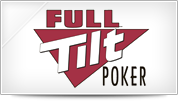 Full Tilt Poker has been back in action for some time now and the site recently announced the online poker players who have made the Black Card Pro Poker team. This is a new sponsorship program that provides players with incentives for reaching major milestones. Full Tilt announced that eleven online poker players qualified for the new program and one more should make the cut after the mini-FTOPS series completes later this month.
As part of the Black Card Pro status, players will earn the following incentives:
The choice of $20k FTOPS entries and mini FTOPS or a $20K clearable bonus
100% Rakeback
Red Name Status (which makes the player identifiable at the poker table for six months)
Players were given the opportunity to earn Black Card status six months ago. The online poker room worked with players to determine what criteria they should use to choose who is able to gain this status. The site finally decided to choose a select combination of methods. This included using adjusted cash game winnings according to poker hand as well as winners of leaderboard tournaments.
The winners based on poker category at Full Tilt Poker are:
Competition Type                                          Player
SNG                                                                           XIAPJIAMOB
HU SNG                                                                    Jasonc6
Rush High                                                                PlayinWithDreams
Rush Low                                                                 Trickshot625
MTT                                                                          Silent_0ne69
FTOPS                                                                      betong
Mini-FTOPS                                                              TBA
NL/PL Hold'em High                                              Triviani20
PLO High                                                                 feliceko
PLO Low                                                                  MadSickoHead
HU Ring                                                                   moos29
Other                                                                       stronghawk
The online poker site is now working on the next group for status of Black Card Pro. This round will be completed in April of 2014. The competition will run three times a year and each go round, the new group of Black Card Pros will hold the status for four months. The competition allows players to focus their talents and set a goal to earn fantastic incentives as well as bragging rights!