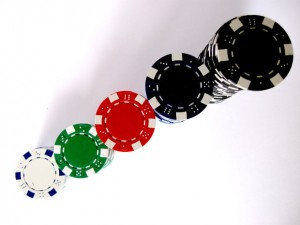 Since the start of the 2014 World Series of Poker, the players who have earned gold before seem to be stepping up to add to their collection. The most recent player to add gold to their collection is Brock Parker. Parker competing alongside 178 players to win the Omaha eight-or-better championship. The event had a buy-in of $10,000 and the pro earned $443,407 for his first place finish.
This is the third gold bracelet for Parker, who earned two bracelets in 2009 during hold'em six max tournaments. The pro was in good form so far in the WSOP tournaments, earning this win and a final table finish in the $1,500 Razz event which took place just a few days ago.
During the final day of the Omaha event, only 18 players headed to the felt. Parker had the second shorted stack of chips with only 90,000 but he would nail a few key hands to end up just short of 3 million for heads up play. His competitor was Richard Ashby, who held 5.3 million going in the final round.
Parker was able to take chips off of Ashley and by the time the final hand took place, Ashby was sitting with just a few big bets. On the final hand, Parker moved to raise on the button with 6-5-4-2 and Ashby choose to three bet with A-A-A-10. Parker called the bet and the flop showed 9-8-7 and Parkers straight made him the favorite to win. The 9 on the turn made Ashby hopeful but a 3 then secure the win for Parker and Ashby would settle for second place.
Final Payouts:
First                       Brock Parker                      $443,407
Second                 Richard Ashby                   $274,019
Third                      O fir Mor                              $198,508
Fourth                  Shirley Rosario                  $146,522
Fifth                       Viatcheslav ortynskiy     $110,1113
Sixth                      Jason McPherson            $84,195
Seventh               Steve Lustig                        $65,472
Eighth                   Melissa Burr                       $51,768
Ninth                     Daniel Kelly                         $41,595