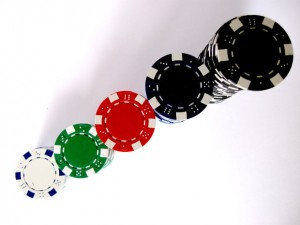 When competing in a poker tournament, everyone knows the odds can be stacked against you. With a large field of competitors, it can be anyone's game. When the tournament gets down to the final table and then the final two, the odds are certainly stacked against you if you are sitting at the felt with a major chip disadvantage. This is exactly what happened to Joey Couden. The player was able to overcome a 7 to 1 chip deficit to win the Hollywood Poker Open event in Columbus earlier this week.
The 2014 Hollywood Poker Open Columbus Regional Main Event recently finished up and Couden made it to the final round of play, only to find himself down with a 7 to 1 chip disadvantage. This is a huge deficit and one that many would not be able to overcome. However, Couden was persistent and managed to hang on, coming back and earning the first place win.
Couden told PokerNews that you can never let the thought of losing enter your mind and that the game is 'a poison' and he was born to win this tournament as he has been competing in the area since the age of 15.
Once the first day of the tournament was over, only 29 players remained. After day 2, only 13 players would be able to earn a payday and then the fight was on to see who would make the final two. In the end it was Couden and John Michalak. With the huge chip lead, one would imagine Michalak had the tournament in the bag, but that was not the case. Over three hours, Couden would make a comeback and eventually double up with A-10 suited. He would then take the lead and win with A-J against Michalak's A-4 to earn the first place win.