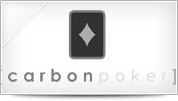 Online poker is a popular past time around the world and in the US, players have limited options. Carbon Poker is one such site that is still available in the United States and players have the option to take part in several gaming options from regular tournaments to special gaming series and more. Players take part in gaming each day and this weekend, players are sure to be signing up to compete in the special event as part of the Mega Stack Tournaments.
On the 21st, the online poker site will be hosting an event of the Carbon Online Poker Series which will offer 50 players a seat to a $250,000 main event with a buy-in of $215. Players can participate for free by taking advantage of a player points opportunity. Simply earn 100 player points or more to earn a free seat to the event. Players have until 15:55 server time to earn the points needed to gain a free seat.
Once you have earned the points, you can register for the giveaway by selecting the Tournaments tab which is located under the Regular/Special section. The following Monday, the Carbon Poker site will begin the Mega Stack Tournament series which will offer as much as $350,000 or more in guaranteed prize pool. This series will offer events each night so players can take part in multiple tournaments throughout the week.
Full Tournament Schedule:
Mon, Feb. 23    20:00     Nightly $109 – $15K Gtd [Mega Stack]                $109       $15,000
Tue, Feb. 24      20:00     Nightly $33 – $20 Gtd [Mega Stack]                     $33         $20,000
Wed, Feb. 25    20:00     Nightly $109 – $15K Gtd [Mega Stack]                $109       $15,000
Thu, Feb. 26      19:00     Nightly $11 – $15K Gtd [Mega Stack]                   $11         $15,000
Fri, Feb. 27         20:00     Nightly $33 – $20 Gtd [Mega Stack]                     $33         $20,000
Sat, Feb. 28        19:00     Nightly $11 – $15K Gtd [Mega Stack]                   $11         $15,000
Sun, Mar. 1        16:00     Sunday Big Ticket – $150K Gtd [Mega Stack]    $215       $150,000
Sun, Mar. 1        16:00     Sunday Big $2.20 – $3K Gtd [Mega Stack]          $2.20     $3,000
Sun, Mar. 1        16:00     Sunday Big $11 – $25K Gtd [Mega Stack]           $11         $25,000
Sun, Mar. 1        16:00     Sunday Big $33 – $25K Gtd [Mega Stack]           $33         $25,000
Sun, Mar. 1        16:00     Sunday Big $60 – $25K Gtd [Mega Stack]           $60         $25,000
Sun, Mar. 1        18:00     Sunday Big $109 – $25K Gtd [Mega Stack]         $109       $25,000