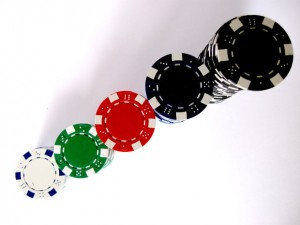 Going to gym usually means hitting the treadmill or working out with the free weights. We all go to the gym to look and feel better but what about going to the gym for a little poker gaming? That is exactly what was happening at a Curves gym in Philadelphia and a man has now been charged with offering gambling services at the club.
Thomas Rand was found guilty of promoting gambling after officials discovered he was running poker gaming out of a Curves health facility. While others were using the gym to work out, Rand was using the gym to host the Runnemede Social Club which offer illegal poker gaming. Rand was charged and decided to agree to probation after he spends almost 1 year in jail. Ryan Dion was also found guilty in this cash and will be serving one day short of a year in prison for his involvement.
Three additional individuals pled guilty in this case for their involvement as dealers and cashiers at the club. A sixth person has yet to be indicted for their involvement. John J. Hoffman is the Attorney General in this case and commented on the subject by stating:
"These defendants operated an old-school gambling club, complete with cash cage, poker tables, and a wide-screen TV for patrons to watch the sports on which they gambled. The state will make every effort to remove gambling from the shadows of the black market underworld."
Both Dion and Rand would collect a rake during poker game play and had been doing so for around 8 years. This is a lengthy amount of time to be running a poker scam without being detected by police. When the facility was raided, police found the items used during poker game play and ended up seizing around $26,000 in cash.