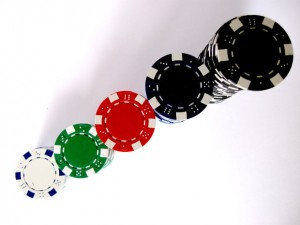 One year of online poker gaming has come and gone in the state of New Jersey and gaming officials are most certainly not happy with the most recent results. According to the figures released, the state has seen the lowest revenues since online gaming began one year ago.
The state of New Jersey offers both casino and poker gaming online and is earns the most poker revenues for online game play when comparing Nevada and Delaware to the state's figures. However, over the past few months, New Jersey has seen a significant decrease month after month in revenue earnings.
The total amount earned in gaming revenues for November was $8.7 million. $1,877,603 of that total was produced by online poker gaming according to the figures released by gaming regulators. This is almost $100,000 less than October revenues for poker and a continual decrease in online poker overall. Despite the lower revenue numbers, the state does continue to see new signups online with just over 506,172 accounts being created overall which is an increase of almost 6% from October to November.
New Jersey did lose some online gaming outlets with the closure of Betfair and then Ultimate Gaming soon after. The two online poker sites were not the most popular but would affect the overall revenues of the state. Now only two land based casino operators remain; Caesars and the Borgata. Both are able to generate online poker revenues and offer four different poker sites for online gaming.
It will be interesting to see what the New Year brings for online poker in the state of New Jersey as well as for the United States. The state may partner up with Nevada and Delaware if the interstate gaming begins and we may see even more states get in on the online gaming action in 2015.